Eid, Brides, Parties: 40+ Stunning And Beautiful Mehndi Designs for You
Looking for the most beautiful mehndi designs to suit every occasion? You'll love today's Haul of Fame round-up of beautiful and simple mehndi designs!
Pin for later!
Whether you're looking for the latest bridal mehndi designs, festive designs for Eid celebrations, or simple and pretty henna for a fun girls' night, we've got you covered with the trendiest looks inspired by some of the best mehndi artists.
Browse through our collection of top mehndi images to start getting inspired for easy and beautiful mehndi designs for hands!
Haul of Fame: Beautiful Mehndi Designs
1. Elegant Mandala Mehndi
Simple and beautiful mehndi designs like these are the perfect option if you're going for a more traditional-inspired look.
This top-of-hand henna design starts with an elaborate mandala as the focal point and is beautifully complemented with floral details on each finger.
2. Minimalist Floral Mehndi
Keep your nice henna designs super chic with this modern interpretation. An accent of criss-cross details on the ring finger gives this simple look a little extra classiness, the perfect addition to simple florals adorning top-of-hand mehndi designs.
Give this look a touch of romance by pairing this minimalist floral mehndi design with pretty pink nails.
3. Modern Florals
If you're looking for beautiful and easy mehndi designs, here's another chic idea you can consider!
Circular floral patterns adorn the top of the hand with matching floral details on each finger, making this perfect for girly henna parties, or even for the minimalist bride.
4. Side Mandala With Sweeping Bracelets
For a traditional design with a slightly modern update, this elegant mehndi design truly delivers. Complete your wedding or festive look with this half-mandala mehndi design, beautifully complemented with leaf motifs forming loose bracelets.
5. Asymmetrical Florals
Symmetry often forms the base of traditional henna designs for hands, but you can try a cascading asymmetrical look for a modern twist. This classy look pairs well with milky white nails.
6. Fine Lines
The simplest details can really make a mehndi design pop; in this wrist-length henna design, the fine florals are given a touch of drama with the addition of lined accents. These would look great replicated as leg mehndi too!
7. Rings & Links
This design is a gorgeous combination of being ornate yet modern. Keep your beautiful mehndi designs simple with clever details like unique hand-drawn rings and sweeping strings to create a truly iconic look.
8. Everlasting Love
This sweet mehndi design image is the perfect fit for bridesmaids – or even for brides who prefer a clean look. This pretty top-of-hand design incorporates a dainty infinity motif among classic florals.
9. Florals With Leaf Motifs
This pretty henna design uses large, detailed florals as the focus, with the addition of leaf motifs beautifully woven through the design. Complementary florals on the fingers complete this nature-inspired look.
10. Classic Mandala Design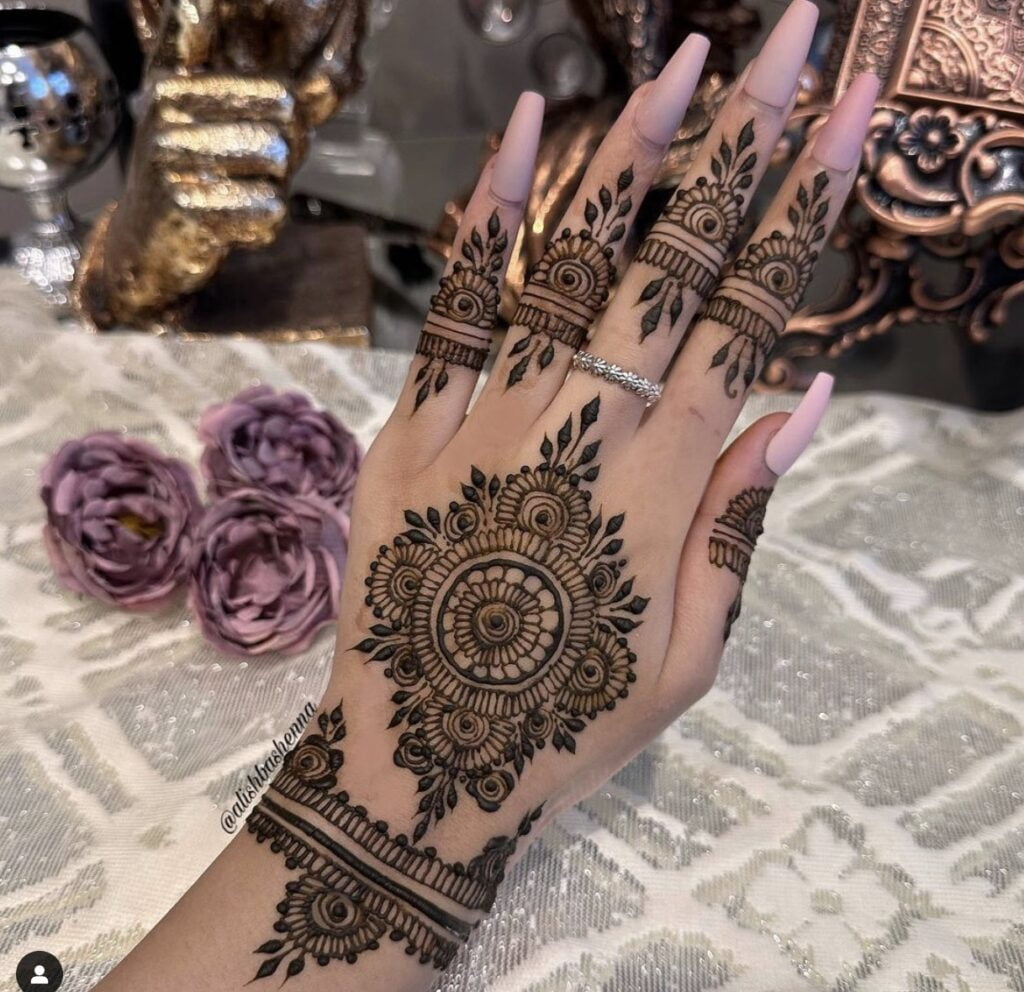 If you love a classic design of beautiful mehndi, you won't go wrong with this look! The traditional symmetrical design uses a classic mandala as the focal point, beautifully complemented with identical rings on each finger and a matching bracelet.
11. Chic Ornate Leaves
Keep your mehndi designs simple and beautiful with this lighter look. While a mandala usually takes focus in a design like this, here it's replaced with graceful leaf motifs. Simple rings and a matching bracelet perfectly round up this clean-cut design.
12. A Little Bit Of Everything
Looking for a more eclectic mehndi design? Floral-themed pretty henna designs like these take on a personalized look with unique, differing details hand-drawn on each finger.
13. Floral Cascades
Love a simple mehndi design? This henna detail starts off with clean ring lines and progresses into gorgeous florals cascading off each finger.
14. Dainty Mehndi With Jaal Details
This nice mehndi design covers the top of the hand with detailed hand-drawn flowers. Add pretty jaal mehndi criss-cross details on the fingers and you get a truly stunning look!
15. Minimalist Mandala
Mandala-based mehndi doesn't always need an over-the-top design to look beautiful; sometimes, all you need are clean lines accented with minimalist leaf motifs for a light and modern look.
16. Intricate Jaal Mehndi
Go for jaal beautiful new mehndi designs if you love the netting-like effect of these criss-cross details!
These wrist-length designs offer two different ideas: you can do a more traditional, symmetrical design with an ornate bracelet and matching finger mehndi designs, or you could try a more modern, asymmetrical design that evokes dainty lace gloves.
17. Dramatic Mehndi Design
Unique details on each finger, from pretty rings to netting crisscrosses to sharp leaf motifs, lend a dramatic look to this classic henna pattern.
18. Matching Diamond Mandalas
Love geometric-inspired mehndi designs? Opt for matching diamond-shaped mandalas on the tops of your hand and complementary ring details on each finger.
19. Elegant Arches
This gorgeous arch-inspired design is perfect if you're going for a beautiful mehndi image that's equal parts intricate and elegant. The addition of a simple floral bracelet detail completes the look.
20. Traditional Full Hand Mehndi Design
Full hand mehndi designs are especially great for bridal wear. This majestic mehndi seamlessly combines multiple details into one elaborate design, including pretty criss-cross lines, fine florals, leaf motifs, and bangle lines.
21. Classic Bridal Henna
Prefer a pretty wrist-length design for bridal wear? This classic bridal look incorporates an arched focal point, floral details on the fingers, criss-cross lines, and an ornate bracelet detail.
22. Dainty Details
This dainty design incorporates simple ring lines and an asymmetrical floral detail to create a cute and girly look.
23. Intricate Arch Design
If you love arch-style simple mehndi designs, here's another gorgeous inspiration worth considering! This henna art combines a pretty arch with matching finger details and a simple floral bracelet.
24. Bold Black Mehndi Design
Looking for something edgy? This black henna design gives off a bold vibe. From ornate ring details to cascading florals, this is one dramatic look!
25. Full-Hand Black Henna Design
Love full hand mehndi designs? This bold look with big floral bunches, cute ring details, and netting-like lines is bound to turn heads!
26. Dainty White Henna
With minimalism being the latest bridal mehndi trend, this wedding-ready white henna design exudes elegance with its simple finger details and a pretty floral focal point.
27. Dainty Black Henna
This sweeping romantic look uses detailed florals as its key element, with a sweeping dotted line beautifully woven into this dainty design.
28. Arched Bracelets
This stunning mehendi design starts off with a pretty rose on the wrist, flanked by beautiful ornate arches on each side and is rounded off with unique finger details.
29. Arched Jaal Mehndi Design
Fine jaal criss-cross lines form the base of this beautiful traditional design, beautifully accented with a detailed arch and elaborate rings on each finger.
30. Mandala Bracelet
This minimalist look starts off with pretty chevron lines on each finger with simple leaf motifs, complemented by a matching arch and a beautiful mandala bracelet detail.
31. Majestic Bridal Mehndi Design
This regal look is a favorite for brides who love traditional mehndi designs. Incredibly rich details come together to create this memorable bridal design, from criss-cross leaves to an ornate arch to a pretty floral bracelet.
32. Simple & Sweet
Sometimes a simple henna look like this is all you need! Swirly floral patterns take up one side of the hands while matching details adorn the fingers. How cute would this look for mehndi night guests?
33. Layered Bridal Mehndi Design
There's so much to see and appreciate in this intricate work, from a detailed floral-inspired arch to an ornate bracelet to swirly patterns adorning the fingers. This is one regal look!
34. Nature-Inspired Modern Mehndi
This minimalist design proves that simplicity can be stunning! Swirls are the main feature here, perfectly paired with leaf rings and a pretty mandala on the wrist.
35. Basic Floral Mehndi Design
If you prefer designs that keep the fingers unadorned, try this pretty top-of-hand floral design. Simple hand-drawn flowers create a truly cute look!
36. Pretty Florals
Asymmetrical mehandi designs exude an artistic vibe, creating an almost painting-like effect with its shaded flowers and leaf motifs.
37. Tulips Mehndi Design
Tulips in pretty mehndi designs for hands are such a cute trend! Get inspired with this ultra-girly look, with a scattering of lively tulips adorning the top of the hand. Leaf wreaths are a cute accent in this design.
38. Stunning Peacock Mehndi Design
Peacocks make for regal inspiration when it comes to henna art. This wrist-length design made up of dramatic peacock details, intricate flowers, and pretty chevron lines are sure to stun!
39. Mehndi For Ramadan
Commemorate the start of the fasting month with an inscription of Ramadan Mubarak in Arabic mehndi designs like these, beautifully complemented with leaves and swirls.
40. Dial Up The Drama
For a stunning look that's sure to turn heads, you can pair bold and beautiful henna designs like this with fiery red nails.
41. Half-Hand Henna Art
These graceful designs offer some options depending on the areas you'd love to see adorned. Might you try sweeping swirly florals with fine chevron lines woven through your forearm? Or perhaps fine lines and florals to create an iconic look for your fingers?
42. Traditional Bridal Mehndi Design
This look offers double-sided inspiration for brides going for more traditional bridal mehndi designs. You'll notice different floral details make up the key elements on the palms, accompanied by dainty criss-cross lines and an ornate bracelet design.
43. Full Hand Mehndi Design With Portraits
You can incorporate pretty portraits into your henna design for a truly personalized look. Depending on the occasion, you might choose to have portraits of you and your partner, famed literary couples, or even your beloved pets!
44. Party-Ready Mehndi Designs
Mehndi night is sure to be a blast for your guests with these pretty party-ready looks! Try a mix of mandalas, cascading floral swirls, and intricate ring details for a fresh and new mehndi design.
45. Sloping Lines
For truly easy and beautiful mehndi designs for hands, try changing up certain details to create a memorable look. These sloping ring lines create a gorgeous geometric-like vibe, giving this classic look a refreshing update!
46. Wrist-Length Ornate Arches
This detailed design incorporates a mix of pretty patterns, from tulip-shaped lines on the fingers to swirl-filled arches to bangle lines adorned with mandala halves and pretty leaf motifs.
Frequently Asked Questions On Beautiful Mehndi Designs
In Which Country Is Mehndi Famous?
Mehndi is famous in Pakistan, India, Africa, and the Middle East. Mehndi art is an ancient cultural practice in these regions and is commonly seen during weddings and festive celebrations like Eid-ul-Fitr and Eid-ul-Adha.
What Is Mehndi Called In English?
In English, mehndi is called a henna tattoo. Unlike tattoos, however, henna is a temporary dye that's applied to the surface of the skin. Mehndi designs usually start fading within a week or two of application.
Why Does Mehndi Turn Black?
Mehndi turns black because of the pigment called lawsone. Mehndi often appears light when first applied and it continues to darken the longer it stays on the skin.
When it comes to mehndi, generally the darker the better. Your mehndi artist will likely offer advice on proper aftercare to get that gorgeous pigmented look.
Does Coconut Oil Make Henna Darker?
Coconut oil can make henna darker. Traditionally, coconut oil is used to darken the henna stain. Coconut oil helps henna to remain intact on the skin by acting like a barrier to water. Henna tends to get darker the longer the design stays intact.
Does Sugar Water Make Henna Darker?
Sugar water can make henna darker by retaining moisture and helping the henna paste to better adhere to the skin. Being a humectant, sugar absorbs moisture from the environment and keeps the henna paste hydrated.
Does Water Affect Mehndi?
Yes, water affects mehndi. If you want the mehndi to be darker, it's best to avoid water for at least a few hours.
Exposing the henna paste to water before the design has a chance to set may produce results that are too light that end up fading quickly.
Should I Leave Mehndi Overnight?
For best results, apply henna and keep it on overnight. Keep in mind that henna can stain fabrics, so be sure to cover your pillowcases and sheets when doing this.
Alternatively, you can also apply henna during the day, and leave it on for at least 4 to 5 hours before exposing it to water.
Which Beautiful Mehndi Designs Will You Be Trying Out Soon?
We hope you've enjoyed our collection of beautiful mehndi designs and have all the inspiration you need for simple and beautiful mehndi designs.
From elaborate full-hand mehndi designs fit for brides to simple wrist-length henna art for a simple, girly look to inscribed designs to ring in Ramadan, there's something to suit every occasion.
And remember: the darker, the better! Try to keep your henna design on for at least 4 to 5 hours (or overnight for best results) to have a beautiful pigmented look. For best results, you may want to include coconut oil or sugar water in your mehndi routine.
Which mehndi designs are your favorites? Let us know in the comments!
Related Posts On Beautiful Mehndi Designs: