The Game-Changing Bathing Products Every Girl Needs to Level Up Her Morning Routine
This post may contain affiliate links, meaning we get a commission if you decide to make a purchase through our links, at no extra cost to you. Please read our disclaimer for more information.
Have you finally come to the realisation that you need to spend a little more time on self care? Well, what better way to improve your self-care than to upgrade your daily bathing products for your morning shower routine?
Maybe you're bored of using the same old bathing products again and again or find yourself settling with your husband's body wash because you've run out of your own sweet scented body wash. Or skipping on conditioner because you don't really see the point of it or just don't have the time for that extra step!
We've got you covered and are about to give you the lowdown on the absolute best bathing products you need right now to totally upgrade your morning (or evening) shower routine to have you feeling, smelling and looking your best! We've also got a step by step shower routine set out for you on how to shower properly too! You'll also want to stay tuned till the end to discover one of the must-have Korean bathing essentials that is trending like crazy right now and literally works like magic!!
How about adding the insanely popular coffee body scrub that everyone is talking about right now to your shower caddy that promises to give you the silkiest, smoothest skin for days?! Or how does a hair turban towel sound that allows you to quickly and simply wrap up your hair and fix into place comfortably with a button so you can carry on with your morning hands free without constantly redoing a massive bath towel on your head that eventually gives you neck pain!
If your bathroom isn't already your favourite room in the house, we guarantee that's about to change once you get your hands on our ultimate that girl shower products!
As always, we promise to bring you only the best rated, cult favourite and market leading products to save you precious time (and money!).
Ladies, it's time to level up your morning routine. So, out with the old and in with the new, here are the shower products that every girl needs!
The Perfect Shower Routine: How To Shower Properly
Seeing as this post is all about bathing products, we may as well go over how to shower to make the most of your daily shower routine.
Soak
Whether that's completely diving right into a bubble bath of your dreams or soaking yourself under your waterfall shower. Make sure your hair is completely wet too before you go in with your hair products. Some people like to cleanse their face with their daily facial cleanser too at this stage or at the end of their shower (or some just do this after brushing their teeth before their shower – we'll leave this one to your discretion!).
Shampoo
Remember the golden rule – shampoo your scalp and condition your hair. Once you've applied your shampoo, make sure you lather it up and massage it into your scalp to clean your scalp properly.
Rinse
Whilst rinsing out your shampoo, keep scrubbing your scalp gently, behind your ears and don't forget right at the front of your face too as that's where we tend to build up a lot of grease from constantly tying and re-tying our hair!
Condition – Condition Your Hair
Apply your conditioner to the length and tips of your hair (not the roots as this will cause your hair to get greasier much faster). No need to scrub. Leave on for at least 3 minutes while you crack on with the rest of your shower routine and try not to get your conditioner get wet whilst on (but it's not a big deal if it does!). Don't rinse yet.
Scrub
For the ultimate shower experience, you need to scrub scrub scrub! Whilst your conditioner is working its magic and if you're not pressed for time, you should totally exfoliate your body with a great body scrub. Apply a generous amount on the palm of your hand and the tiniest bit of water and begin scrubbing your whole body. Top up as needed. Scrubs are really great bathing products that work like magic for ingrown hairs, dry skin on feet, underarms and knees and elbows. Once rinsed, you'll instantly notice how buttery smooth your skin is (it's actually incredible!). Rinse.
Shave
Now that you've scrubbed and most likely released all of those stubborn ingrown hairs, next is the perfect time to shave. Apply your favourite shaving cream and shave in the opposite direction to your hair growth making sure to rinse your razor often to ensure maximum hair removal every time (hairs stuck in your razor will just break the rest of your hairs whilst shaving and not remove them properly if at all). Rinse.
Top shaving tip: apply conditioner on the areas you want to shave before shaving!! It makes your razor glide so effortlessly and makes awkward parts so much easier to shave too.
Body Wash
Once your body is super smooth and hair free, this is the best time to lather on the best smelling body wash that will linger on your skin all day! Its actually best practice to just apply your body wash with your hands as loufah's can retain a lot of bacteria and as you would have already scrubbed your skin, there's no need for the extra abrasion! Rinse.
Rinse Out Your Conditioner
Now that you've finished with your body cleaning steps, you can go back to rinsing out your conditioner and you'll literally hear how squeaky clean your hair is as you glide your fingers through your hair. During this step you can also brush your hair with a wet brush too or can hold off on this till after your shower too.
And that's everything you need to do for the perfect shower routine. Don't forget post shower to moisturise your body generously with a good body lotion or body oil as shaving and scrubbing your skin can make it dry.
We found a great article with some amazing tips on how to smell good which we thought our readers would appreciate (especially those that landed on this article!).
Bathing Products Every Girl Needs: The Haul of Fame
Now, let's get straight into the good stuff! Here's your Haul of Fame of the bathing products every girl needs for the perfect shower routine and to smell good all day long!
1. Bath Sheet / Bath Towel
Christy – Supreme Hygro Towel
Investing in a plush, highly absorbent towel that will last and maintain its softness is one of the most essential shower routine products you need.
This bath sheet by Christy is just pure luxury and perfection in one. It may come at a higher price tag compared to its cheaper counterparts, but expert reviews have ranked this plush towel highly. The best qualities of this towel include; fastest rates of absorbency whilst also maintaining an extremely thick and plush overall feel with minimal/no shrinkage post washing. Plus there's nothing better than stepping out of your shower and into a thick, cosy towel that makes you feel like you're being hugged by a cloud!
You may as well upgrade your hand and face towels too or add them to your bathroom essentials wishlist (and keep an eye out for sales)!
Buy Now (UK):
2. Microfiber Hair Towel
Microfiber towels for hair are the absolute best thing you can do for your hair post shower. We know exactly what you're thinking right now. Why can't I just use any standard towel for my hair? Well, a microfiber hair towel is specifically designed to minimise damage and frizz caused while drying hair and therefore minimise the overall time spent applying heat with hair tools, thereby improving the overall condition of your hair as a whole.
Microfiber hair towels are made of lighter and more absorbent materials than any other type of towel. The size of hair towels are also perfect and conveniently tuck in or button up at the nape of your neck, to allow you to be hands free as you continue with your wonderful day ahead.
Easily the best, most popular and most loved hair towel wrap is the Aquis hair towel. Made from the brand's Acquitex fabric, woven with ultra fine fibres that wick away water from hair strands without causing any friction and therefore damage and dries hair up to five times faster than a normal cotton towel would, cutting drying time by 50%.
The Aquis hair towel simply wraps around your head and can be tucked into the nape of your neck to fix it in place firmly and comfortably.
Buy Now (UK):
Buy Now (US):
Another incredibly popular hair drying towel by the market leader in hair towels is their Lisse Luxe Hair Turban. The Aquis Hair Turban is designed to simply wrap and button up at the nape of your neck, so you can be sure that it won't budge at all once it's on!
Suitable for all hair types and is the perfect microfiber towel for curly hair too. Easily the best hair towel around for quick and fuss free hair drying.
The Aquis Hair Turban is one of the best shower products women are absolutely loving right now!
Buy Now (UK):
Buy Now (US):
3. Detangler Brush
The detangle brush you wish your mum bought when you were a kid! Of all the brushes for wet hair, the Wet Brush detangler will make the chore of detangling your hair after your shower bearable and virtually pain free.
The Wet Brush is a non-negotiable from our list of shower necessities as it can be used in your shower and after too!
Everything you need to know about this detangle brush can be found right here.
4. Best Drugstore Shampoo and Conditioner
Here at Haul of Fame we're a big fan of the OGX line as research shows that they are among the best drugstore shampoo and conditioners ever, as the brand quite literally has a product for each and every hair type and concern, all of which smell incredible! Combining exotic ingredients with a sulfate free surfactant system in most products and all products are paraben free. Every shower needs something OGX and here's a couple of our top picks!
From the OGX line, the best shampoo for dry hair (and damaged hair in need of some serious nourishment and TLC) is from their coconut milk range.
Infused with a creamy blend of organic coconut milk, ultra whipped egg white proteins and coconut oil. Can you even imagine how good this must smell too?! Their conditioner from this range is also the best conditioner for dry hair and literally makes your hair super smooth and soft.
A sulfate free shampoo and conditioner is another one of your must have shower products for your shower caddy. Luckily, the OGX Coconut Milk range is also sulfate free meaning it won't dry out or strip your hair after every wash and thereby retaining its moisture.
or..
Our top pick for all hair types for people that are looking to have shine, strength, softness and silkiness restored into their hair is OGX's shampoo and conditioner from the Argan Oil of Morocco range.
If you're after a sulfate free shampoo that is affordable, smells incredible and lasts for days, and does everything you could want from a shampoo (and conditioner), then the OGX Argan Oil of Morocco range is definitely your match.
Haul of Fame Purchasing Tips: Start with purchasing travel size products if you're buying something for the first time. It's a great way to test out a new product by spending a fraction of the price. That way if it's not the right fit for you, you've minimised the likelihood of wasted product and money too. OGX usually runs 3 for 2 on their products too so you can mix and match between their different ranges.
5. Hair Mask
Briogeo Don't Despair Repair is an award winning and absolute dream of a hair mask restores and deeply nourishes hair with its formulation of 98% natural ingredients making it perfect for all hair types and textures. The best natural hair mask around.
This exceptional bathing product is infused with B vitamins, rosehip and argan oils, collagen and algae extract for instantly healthier, shinier and silkier tresses. Not only does this natural hair mask repair existing hair troubles, but it also helps reduce future breakages by up to 75% when used repeatedly.
The Briogeo hair mask is made without phthalates, parabens, silicones and artificial dyes. Certified cruelty free and vegan friendly.
Buy Now (UK):
Buy Now (US):
or..
Olaplex No 3 Hair Perfector
Another fabulous hair mask for damaged hair! The Olaplex 3 miracle hair mask is especially perfect for those with coloured hair suffering from damaged, dry or brittle hair post bleaching or as a result of heat styling.
This cult favourite Olaplex treatment contains a patented active ingredient that searches for broken bonds in the hair then repairing and restoring them to stronger, healthier and silkier days.
This must-have bathing product is not a conditioner. When masking hair, apply a generous amount on damp hair, comb through once and leave on for a minimum of 10 minutes (can also be used as a leave in overnight treatment). Rinse and follow with Olaplex shampoo and conditioner.
If you don't believe us when we say this Olaplex treatment is popular, just check out the Olaplex reviews on Amazon for yourself (over 100k!!).
Olaplex literally took the haircare world by storm when they arrived on the scene and are still going strong dominating the market.
Buy Now (UK):
Buy Now (US):
6. Body Scrub
One of the best body scrubs around! This all natural, vegan scrub isn't just your normal type of scrub! It's a coffee scrub and works beautifully as a body exfoliator.
The Frank Body coffee scrub with its formulation of coffee, sea salt, vitamin E and antioxidant rich oils not only leaves your skin (and face!) feeling baby soft, but goes even further to combat stretch marks, cellulite, breakouts and scars!!
The Frank Body scrubs also come in a variety of different 'flavours' including their bestsellers Coconut Coffee, Cacao and Peppermint.
A firm favourite bathing product for anyone that loves a good scrub in the tub!
Buy Now (UK):
Buy Now (US):
7. Body Wash
Sometimes simple is best. The Dove body wash is the best and most popular bathing product of all time. It does exactly what it says on the tin by delivering 'softer, smoother skin after one shower'.
Formulated with NutriumMoisture technology, a mix of moisturisers and skin natural nutrients that allow your skin to maintain its natural balance whilst also providing a boost of deep nourishment, which is noticeable just after one shower.
Whether you're looking for a body wash for man or body wash for women, you literally just need to grab one of these (or why not just stock up to save you less trips to the store?) and both enjoy softer, silkier skin after your shower.
or..
Our top pick from our bath routine products that will remind you of Summer and beaches!
If you're a fan of the famous Bum Bum Cream by Sol de Janeiro then you'll know just how good their signature scent of pistachio and salted caramel is! If you haven't bought the Brazilian Bum Bum Cream cream yet – you can thank us later when you do!
This best smelling body wash will have you smelling good all day long (especially when followed by the Bum Bum Cream)!
It is infused with cupuaçu butter, coconut oil and acai oil that cleanses and hydrates the skin without stripping it of its natural oils and providing antioxidant protection.
Buy Now (UK):
Buy Now (US):
8. Bubble Bath
We are a huge fan of a relaxing bubble bath before bed and what better way to relax than to soak yourself in a bath full of lavender scented bath bubbles?! Lavender is proven to not only relax your body but your mind too. The two products below are guaranteed to give you the best bubble bath of your life and will have you sleeping like a baby at night. A very necessary bathing product and treat that we deserve.
Lavender bubble bath would even be a perfect gift for anyone looking for gifts for their best friend, girlfiend, wife etc., and would be a great way to upgrade her bath essentials for her.
Dr Teal's Foaming Bath is one of our personal favourite bathing products as it contains pure epsom salt too which helps to soothe achey muscles and relieve stress and tension (it's also a favourite bubble bath to use while pregnant). It is also extremely great value for money as the bottle is huge and a little really does go a long way.
As for the L'Occitane bubble bath, if you want to add a little bit of luxury to your bath routine and create an at home spa experience, then definitely treat yourself to this best selling bubble bath.
8. Razor
Hair removal is another very necessary bathing product we all need and this is the best razor for women. For ultra comfort and a smooth shaving experience, this Venus razor has 5 blades for a flawless super close shave with a rounded pivoting head that allows for ease when shaving awkward areas.
What's even more special about this razor are the water activated moisture bars that release a light lather of Olay skin conditioners that allow the razor to glide effortlessly against your skin without the need for any prior shaving cream.
You can buy Venus razor refills separately on Amazon. The Venus white tea razor is also another popular moisture bar refill that you can opt for when purchasing the venus razor (initially or later).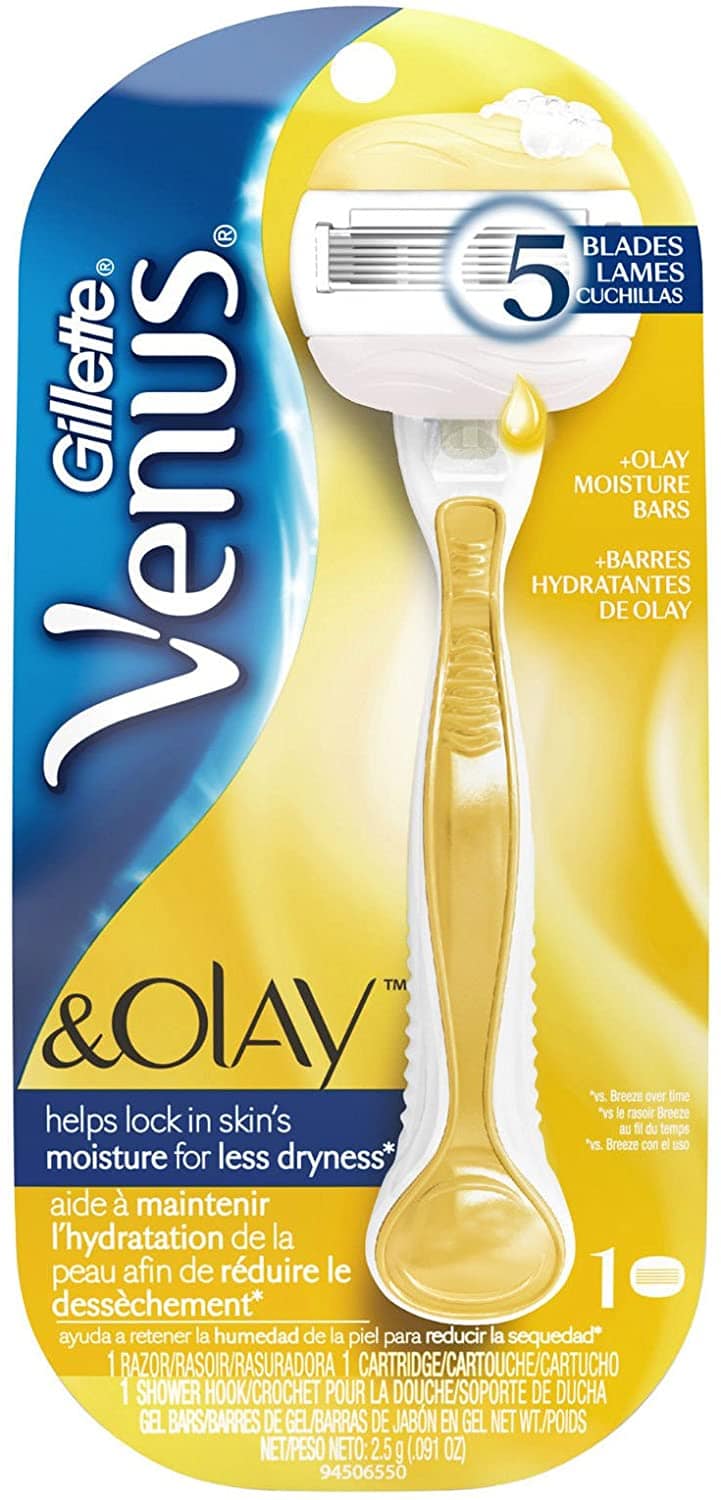 Buy Now (US):
For those with more sensitive skin who need to incorporate a shaving cream ahead of shaving (if you're not opting for the conditioner shaving cream hack mentioned earlier!) then you need to get your hands on the leading and most hyped up shaving gel; EOS Ultra Moisturising Shaving Cream which contains a whole lot of moisturising ingredients such as aloe, oat and shea butter. If you're in the US or anywhere else in the world where this is available, you need to get your hands on this must-have bathing product and let us know what you think.
Fun fact: Conditioners (an obvious bathing product) work just as well as shaving creams as they have the perfect consistency and nourishing properties!
There's been much debate about using a loofah sponge as a tool for washing our skin. A number of dermatologists have actually recommended that there is no need to use any form of shower sponge/bath loofah/wash cloth at all as a bathing product as it suffices to just use your hands to apply your body wash and body scrubs. This is because loofah sponges are a breeding ground for all sorts of bacteria.
If you feel like you just can't part with your loofah sponge (as we completely appreciate that nothing quite lathers up body wash like a good old shower loofah!), try and buy them in bulk, allow it to dry properly after each use by hanging it on your shower caddy or bathroom wall leaving a window open, and replace it every 2 months. If you start to notice any mould or unpleasant odours on your loofah before this time, discard it immediately.
or..
You could also opt for an exfoliating mitt like this Amazon best seller made from Egyptian Loofah, which is not only gentle on your skin due to its natural fibres, but will also boost circulation, encourage cell renewal, remove toxins and buff away dead skin cells. Oh and not to mention it will leave your skin super silky smooth and glowing!
Exfoliating mitts are also great for self tanning to ensure an even application and smooth finish. Korean exfoliating mitts have become increasingly popular and are trending massively in the world of self tanning. Check out these best selling Korean exfoliating mitts from Amazon.
or..
People are going absolutely crazy over this Korean exfoliating towel on Amazon. It is an absolutely magical accessory and one of the best shower essentials to get rid of dead skin and the Amazon reviews for it are just glowing.
Top tips for using a Korean washcloth are to (i) use it without any soap after (ii) drenching the skin in warm water before you (iii) get scrubbing in side to side motions (rather than circular) and (iv) follow up with moisturiser or body oils.
So there you have it, all of the bathing products you need to have the best shower routine possible and to smell good and feel good all day long! We'd love to know your favourite shower products so let us know below along with any shower tips too!
Related Posts: